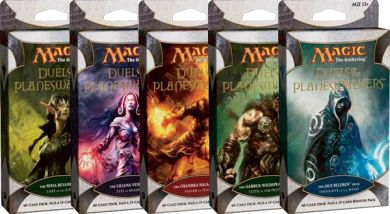 Decks
Decks featured in:
Magic the Gathering Duels of the Planeswalkers:
Click one of the links below view the deck, including unlockable cards.
Expansion Pack 1 Decks
Expansion Pack 2 Decks
Expansion Pack 3 Decks
References
Multiverse: Magic: The Gathering
This information may be copyrighted. So it will be used in a way that qualifies as Fair Use under US Copyright Law. The information on this wikia was found on: http://www.wizards.com/Magic/Digital/Default.aspx or came from Magic the Gathering: Duels of the Planeswalkers: (Xbox 360 and PC Version's) The Information was gathered from Magic 2011. This information may be owned by Multiverse: Magic the Gathering, which is owned by Wizards of the Coast. The use of this information in www.duelsoftheplaneswalkers.wikia.com articles can be considered fair use because: It illustrates the topic of our articles, and no equivalent free and accurate information is available. The use of this information on articles other than those outlined above with legitimate fair use rationales may be a copyright violation.
Ad blocker interference detected!
Wikia is a free-to-use site that makes money from advertising. We have a modified experience for viewers using ad blockers

Wikia is not accessible if you've made further modifications. Remove the custom ad blocker rule(s) and the page will load as expected.