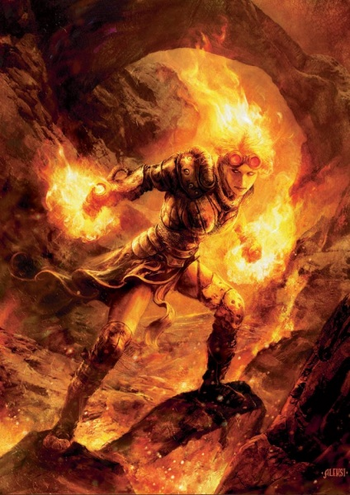 Biography
Chandra Nalaar is a red-magic-wielding planeswalker. Her specialty is pyromancy: spells of fire, fire, and more fire.
There's no virtue in subtlety—at least not as far as the fire-mage Chandra Nalaar is concerned. Impulsive, passionate, and short-tempered, she's as ready to explode as the pyromantic spells of her ever-growing repertoire. Chandra's spark ignited when she was still quite young, and as she has grown, so have her abilities as a wielder of fire magic and as a planeswalker.
As a source of immense and unpredictable power, authority figures have sought to restrict and control Chandra, which comes into direct conflict with her need for independence and freedom. As Chandra's wild inner fire comes in contact with world after world of rules and strictures, the results are sure to be explosive.
Chandra Nalaar's Deck
Chandra Nalaar's Campaigns
Chandra Nalaar's Challenges
References
Multiverse: Magic: The Gathering
This information may be copyrighted. So it will be used in a way that qualifies as Fair Use under US Copyright Law. The information on this wikia was found on: http://www.wizards.com/Magic/Digital/Default.aspx or came from Magic the Gathering: Duels of the Planeswalkers: (Xbox 360 and PC Version's) The Information was gathered from Magic 2011. This information may be owned by Multiverse: Magic the Gathering, which is owned by Wizards of the Coast. The use of this information in www.duelsoftheplaneswalkers.wikia.com articles can be considered fair use because: It illustrates the topic of our articles, and no equivalent free and accurate information is available. The use of this information on articles other than those outlined above with legitimate fair use rationales may be a copyright violation.